The Galway based band lived up to their description of high energy trad-rock at Sin É, on Saturday the 15th of July. The 5 piece fusion band impressed both the regular gig goers of Sin É, while also drawing in tourists in search of traditional Irish music and they were certainly not let down. Cúla Búla went off to somewhat of a vague start, with very little verbalisation or explanation of what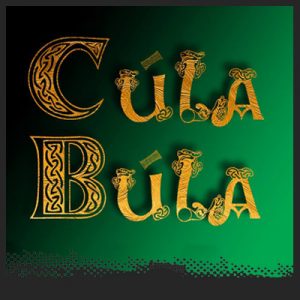 was a sound check at the start of their set. Once they had finished the first song however, it was evident that the crowd were raring to go alongside them.
Not only was the gig a musical mixing pot of rock and traditional, it was also visually engaging with the front man 'Bisckits Musicman' putting on a entertaining show, including playing a lot of the gig sans t-shirt and shoes. Bisckits engaged with the crowd thoroughly, even rewarding one man for his spectacular dance moves, with one finely rolled rollie.
What caught my attention the most were the covers that they played and how well developed the sound was. Rocky road to Dublin is always a good song to throw into any setlist, to make you truly feel like you're standing in the depths of Dublin city having a pint. One step beyond was another great cover that made for some sweet dance moves by Bisckits. Cúla Búla kept the packed dance floor enthralled and entertained from start to finish, with talk of the angelus which made for a very Irish atmosphere, the mix of original hits and classic floor stompers kept the crowd both engaged and dancing from start to finish.
The atmosphere and vibe from the band themselves was incredible and made for a fun and vivacious live gig. Seeing this band is an exciting experience altogether and if you find yourself in a position to go and see Cúla Búla they are certainly one not to be missed.
Words by,
Becky Kearney.