As a regular to Sin é, it was refreshing to see something so new and so culturally different in the local venue; I am of course talking about Birdcloud. The pair from Nashville, Tennessee took to the stage 3, 879 miles from home and yet the comedic duo seemed to have something of a cult following, as many fans were crowded at the front of the stage singing along to each and every word.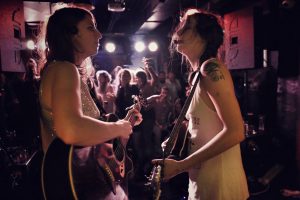 The girls were confident and unapologetic from the get go. From their sparkly outfits and tequila shots on stage, to the obscenity of some of their less than polite lyrics (which can be heard in the likes of their song, "black guys"). Their lyrics and general demeanour quickly give you a very clear image of their satirical style and their opinions, "Wild turkey 101 mother fucker".
This was not your usual gig in which the stragglers who ended up in the pub float from bar to smoking area with the occasional applause, this was more of a performance that included both visual and musical entertainment rather than a simple gig. It had each member of the audience captivated from start to finish. The band make an effort to include the crowd as if they were the third member, a missing piece, which makes for a more wholesome inclusive atmosphere.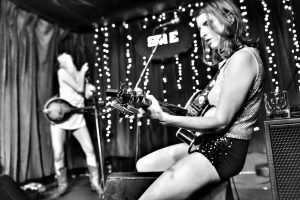 "My hymen belongs to Jesus".
The atmosphere seemed to explode at some point about mid-way through the gig when the dance floor became a wall to wall sweatbox packedwithenthusiastic dancers. There were people singing and glasses smashing and everyone seemed to really be taken in by the whole experience. The two hinted at the idea of a new video being on the cards which is something to look out for, hopefully in the near future.
Becky Kearney